In part 2 of this series about the armor of God, we will look at the meaning and function of the second armor piece as described in Ephesians 6: "…and having put on the breastplate of righteousness," (Ephesians 6:14, ESV).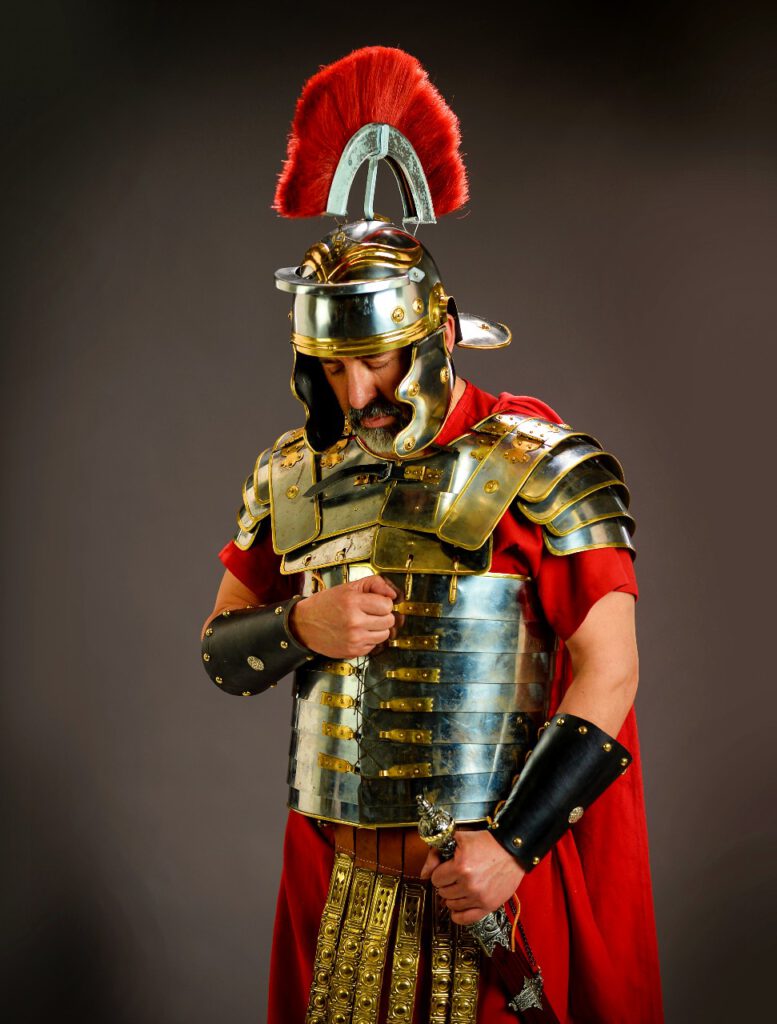 For his analogy, Paul took the breastplate of Roman soldiers as an example. To understand why, it helps to know what it was used for. The breastplate would cover the torso to protect the heart, lungs, spine, and the soft tissue of our stomach area. One arrow piercing these sensitive areas could lead to death. So any armor that was worn to protect those body parts needed to be of a very strong metal, and that is why they used iron.

Interestingly, these sensitive areas are also the areas where emotions are felt. And God's righteousness is also like iron: unbreakable, but also a heavy burden for people without faith in Christ (as was the case for people living under the Law of Moses).
God's righteousness works against the person attacking it, but for the person wearing it, just like a physical armor:
Not one person is truly righteous. But because of Him, we who have faith in Jesus, are justified and free from condemnation (Romans 3). And so God's righteousness has stopped working against us.
Because we have been justified by faith, we can now have peace with God and rejoice in Him through Jesus (Romans 5). That is why His righteousness now works for us.
Through this faith, we have been delivered from slavery to sin (Romans 6), and have been transferred to Jesus' team, "team Righteous", the winning team. That is why we can win the battle when fighting temptations, and always choose righteousness.
If you are persecuted because of this righteousness, it means you're winning, as Jesus says: "Blessed are those who are persecuted for righteousness' sake, for theirs is the kingdom of heaven." (Matthew 5:10, ESV)
Because God is always righteous (2 Corinthians 9:9), and He never changes, we can remind ourselves of this fact when times are tough. He is just and knows best. By enveloping ourselves with the memories and expectations of how God's loving righteousness has manifested in our lives, we can find joy and peace in any situation, even the painful ones.
He promises us that living under the protection of the iron of His righteousness means that we don't have to worry when we are under attack, because God has got our back. He says: "fear not, for I am with you; be not dismayed, for I am your God; I will strengthen you, I will help you, I will uphold you with my righteous right hand." (Isaiah 41:10, ESV)
You can be sure that help is one cry away: "When the righteous cry for help, the Lord hears and delivers them out of all their troubles." (Psalm 34:17, ESV)
His righteousness also means He would never ask too much of you (because that would not be righteous). So, when you are tired of the battle or feel that you have too much on your shoulders, He says: "Cast your burden on the Lord, and he will sustain you; he will never permit the righteous to be moved." (Psalm 55:22, ESV)

The Breastplate of Righteousness helps you endure the training
Being clothed with righteousness means that we are constantly living in it, and that means constantly acting in accordance with it. The Bible teaches us that if we do that, we will flourish and stand till the end, even when the battle gets tough. And the battle will get tough. Because the only way to be victorious is through the battlefield, for by God's design that is the only way to be perfected. Test, after test, after test. And as long as we don't give up, each test will make us stronger and more like Jesus.
Job, in his terrible suffering, puts it this way: "…the righteous will hold to their ways, and those with clean hands will grow stronger." (Job 17:9, NIV)
If God allows the enemy to test you, that is a good thing (see examples in James 1, 1 Peter 4, Revelation 2:10). He disciplines us so that through those unpleasant or even painful experiences, we are trained to become stronger, tougher, and above all, holier. God wouldn't do that if you weren't His child (Hebrews 12:8).
Jesus was also tested. By the devil, as told in Luke 4, but also over and over again by people who were fighting for the wrong team. People who were disguised as servants of righteousness, but who were actually serving Satan.
Even though God gives us seasons of reprieve, if you never get put to the test, you might want to check if you are still in the battle. Because if you aren't fighting for the Kingdom of God, you won't get to enjoy the victory.


Wearing it keeps you safe
The conclusion is that the Breastplate of Righteousness keeps us safe. Safe from fear and anxiety, safe from hopelessness, helplessness, and exhaustion. But also safe from sin, and therefore safe from the righteous wrath of God which is reserved for the people who serve the enemy.

For obvious reasons, I like this Proverb which, in a way, sums it all up:
"The wicked flee when no one pursues, but the righteous are bold as a lion." (Proverbs 28:1, ESV)



Click on any of the links below to read about another piece of armor. Or read them all to see how they all work together.

Part 3: The Shoes of Readiness
Part 5: The Helmet of Salvation
Part 6: The Sword of the Spirit